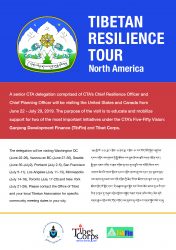 June 11, 2019 – A senior CTA delegation comprised of Kaydor Aukatsang, Chief Resilience Officer/SARD Director, and Dr. Kunchok Tsundue, Chief Planning Officer, will be visiting nine cities in the United States and Canada from June 22 to July 29.
As the Tibetan diaspora community in the West expands, it is important community members are informed of key CTA initiatives and that their participation is actively sought. Towards this end, the delegation through the Tibetan Resilience Tour will educate and mobilise support for two important and strategic initiatives that translates the Kashag's Five-Fifty Vision into action: Gangjong Development Finance (TibFin) and Tibet Corps.
Gangjong Development Finance is a Tibetan financial service institution that provides affordable capital, financial services and financial literacy to both general and marginalized entrepreneurs
and promotes viable Tibetan micro, small and medium enterprises. Tibet Corps offers Tibetan professionals, university students, and retirees an opportunity and platform to serve the Tibetan community through voluntary service.
The delegation will visit Washington DC, Vancouver BC, Seattle, Portland, San Francisco Bay Area, Los Angeles/SoCal, Minneapolis, Toronto and New York/New Jersey. During their visit, the delegation will interact with community members at meetings organised by the local Tibetan Association in each city and also meet with potential funders and investors in TibFin.
"TibFin and Tibet Corps have the potential to transform and permanently steer the CTA and the Tibetan community towards becoming self-reliant and driving innovation and bringing the community even closer as a result. Hence, I request the support and participation of all Tibetans and friends of Tibet," said Sikyong Dr. Lobsang Sangay
The Tibetan Resilience Tour is being closely supported by the Office of Tibet in Washington, DC and the Tibetan Associations in the respective cities.
More information and regular tour updates will be posted on the Facebook event page: