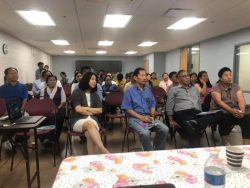 Washington D.C: A senior CTA delegation Kaydor Aukatsang, Chief Resilience Officer/SARD Director, and Dr. Kunchok Tsundue, Chief Planning Officer spent a few days in Washington DC as part of the Tibetan Resilience – North America Tour. The purpose of the tour is to educate and mobilize support for two of the most important initiatives under CTA's Five-Fifty Vision: Gangjong Development Finance (TibFin) and Tibet Corps.
Tibet Corps offers Tibetan professionals, university students, and retirees an opportunity and platform to serve the Tibetan community through voluntary service. The program seeks to inspire Tibetans to strengthen the community, its institutions, and the Central Tibetan Administration.
SARD acts as a nodal agency for development assistance provided by bilateral, multilateral and other institutional funding agencies such as EU, USAID, DANIDA, Tibet Fund, etc. Over the years, it has gained vast experience and capability to coordinate and implement a wide range of humanitarian and developmental programs, in partnership with various Departments of the CTA and other civil society organizations.
-Filed by Office of Tibet, Washington DC