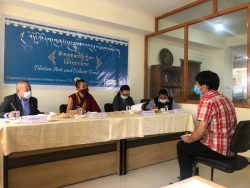 Dharamshala: The Department of Religion and Culture, CTA organized two days interview on July 30 and 31, 2020 for the selection of candidates in the fourth Tibetan Arts and Culture Fund (TACF).
The core aim of this program is to support Tibetan artists and organizations who work for the preservation and promotion of distinct arts and culture of Tibet which are under the verge of extinction because of China's continued repressive policies.
The department initiated this important program mainly to encourage professional and emerging artists to expand or improve their works for keeping alive centuries old Tibetan arts and culture and share their expertise to the younger generation in exile.
This year 29 individuals and organizations had applied in TACF and out of which 27 applicants have been qualified in final round selection whose projects are research studies, preservation of Tibetan art and drawing skill, exhibition, collection of the script of the ancient kingdom of Tibet and purchase of costumes and equipment to sustain their cultural organization etc.
The selection committee comprising four members had taken in-person interview to those applicants living in and around Dharamsala and virtual interview to the rest of applicants from other parts of India.
The selected candidates will be awarded a grant between Rs. 50,000 to 3,00,000.
TACF was initiated with the support from Tibet Self Resilience and Reliance (TSSR) in the year 2017 to strengthen Tibetan cultural resilience. So far 38 individuals and organizations got benefit to carry out their projects and works.
-Filed by Department of Religion and Culture, CTA