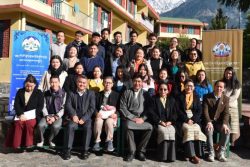 Dharamshala: The Public Service Commission of the Central Tibetan Administration today began one-month induction training for 25 newly recruited staff of Central Tibetan Administration.
Explaining the aims and objectives of the training, Chairman Wangdu Tsering Pesur said that in addition to the routine training in Dharmashala, the new recruits would also receive two-week training at the Indian Institute of Public Administration in Delhi.
He urged all the new members of CTA to use this training as a learning opportunity to start their career in the Central Tibetan Administration with a firm resolve to work for the welfare of the Tibetan people and strengthen the Tibetan movement. He illustrated stories of his own experiences who began his career at CTA and now has dedicated over 34 years of service in the administration. He further implied maintaining self-discipline at all times while working in the administration.
"Working at CTA is a welfare service that you are offering to the larger benefit of Tibetan, therefore, you must at all times abstain from petty regionalism and work towards one goal," said Chairman Wangdu Pesur.
Meanwhile, he particularly stressed on imbibing the advice and guidance of His Holiness the Dalai Lama while working and to always remember the kindness of His Holiness.
Naga Sagey Tendar, Head of Culture & Research Department of LTWA congratulated all the selected candidates and delivered words of guidance. He said, "Vast amount of money is spent on providing this training. You must exploit every opportunity to learn and improve where it is necessary". He urged the candidates to polish the Tibetan language during the training session while learning other skills.
Following the introduction of each recruited candidate, Secretary Tsering Yangkyi of PSC introduced and explained the subjects that will be covered in the training.
The first half of the training will be held at the Administrative Training and Welfare Society (ATWS) in Dharmashala followed by two-week training at the Indian Institute of Public Administration in New Delhi.
The program is funded by USAID.