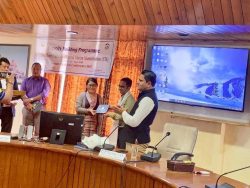 The 10-day capacity building training program at Himachal Pradesh Institute of Public Administration (HIPA) which began on 16 September concluded on 25 September with a special class on the Public Administration by the Director of the HIPA, Shri C.P. Verma.
HIPA Director along with the Secretary of Public Service Commission(PSC) presided over the closing ceremony held at the conference hall of HIPA.
On behalf of the PSC and the trainees, Secretary Tsering Yangkey delivered the vote of thanks. She thanked the administration of HIPA headed by the Director and facilitated by the Course Director Shri Pravesh Sharma, for conducting a meaningful and pragmatic workshop.
Secretary Yangkey thanked and appreciated the resource persons who shared their rich knowledge and vast experiences with the trainees. Her vote of thanks also included the computer, light and sound technicians, photographer, hostel staff, kitchen staff and also the gate-keeper for their respective roles and contribution in making the training program successful.
Continuing her speech, she thanked and encouraged the trainees to put into practice the new knowledge and skills they have learned at the training. She asked them to be the change that they wish to see in their respective workplace.
The participants were felicitated with certificates of participation. Finally, trainee Tenzin Paljor from DIIR delivered the vote of thanks in Hindi which was warmly acknowledged and appreciated by the HIPA director.
The program is funded by USAID.