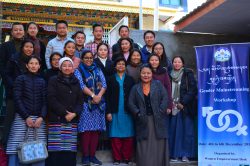 Women's Empowerment Desk under SARD, dept of Finance has organized a three day 'Gender Mainstreaming workshop' from 4th Dec to 6th Dec 2019 for the CTA senior leadership, section heads and the project officers from different departments. The Workshop was facilitated by Sudarshana Kundu and Ritu Gupta who were from an organization called Gender at Work. Gender at Work is an American based non profit organisation that works on gender and institutional change at individual , organizational and systemic levels to end discrimination against women and advance cultures of equality. 
 The objective of the workshop was to discuss 

about

 mainstreaming gender and integration of the women empowerment policy (WEP) into the programs and functioning of CTA. The meeting with the senior leadership discussed the gender analysis, practical and strategic needs to understand and develop a framework for 

the 

systematic change and interventions. 
The session with project officer and section heads dealt on the mainstreaming of gender into the project and programs of CTA using a results framework that's ensures a strategic approach that implements the WEP.

 
It also looked at the background on the whole 
concept of 
gender and women rights movement at the global and national level to better understand 
the context of women's rights and gender inequality and also to think over within the context of Tibetan  community. The workshop also help the participants to develop strategic tools and techniques to incorporate more gender sensitive approach in the program and project that they handle. This approach would help in creating more gender sensitive and gender transformative program in CTA program and project. 
 The participants will be working on developing action steps under each of the sectors of work like education, finance, health, home, public service commission and international relations that are workable and in parallel with the Women's empowerment policy ( WEP)  for the coming year.