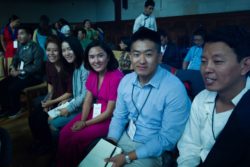 Central Tibetan Administration's (CTA) Department of Information and International Relations is coordinating this year's Five-Fifty Youth Forum: Shaping Tibet's Future. The CTA's Five-Fifty Vision aims to dissect and find a solution for ongoing Tibetan issues using the Middle Way Approach while simultaneously strengthening and maintaining Tibetans resilience, culture, and identity for Tibetans inside and outside of Tibet.
This year, the forum will be held in August in Dharamshala, India. 100 applicants between the ages of 25-40 from all corners of the globe will be selected to discuss the Five-Fifty Vision.
Interested participants must email their resume along with their green book number to [email protected] by 30th May, 2018. A selection committee will review the applications and short list candidates. Preference will be given to candidates with remarkable achievements and community leadership experience. DIIR will incur your travel and logistical costs.
The final selected list will receive confirmation by June 2, 2018.
The breakdown of the participants is as follows:
35 Indian-based participants
5 Nepalese/Bhutanese-based participants
25 North American-based participants
25 European-based participants
5 Australian/Asian-based participants (Australia /New Zealand /Japan/ Taiwan)
5 CTA civil servants
Deadlines:
Announcement date: May 9, 2018
Submission of application: May 30 2018
Intimation of selected participants: June 2, 2018
Email: [email protected]