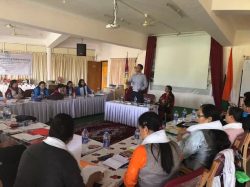 The Department of Education has organised a Workshop on Fundamentals of Remedial Teaching on Specific Learning Disability at Yiga Choeling from 10-15 February 10 -15, and it was participated by 29 primary teachers from 21 different schools under CST, STS, and TCV.
The practice of inclusive education is an inalienable part of school education and DoE lays great emphasis on the same to be practiced in Tibetan schools. The Department of Education has been assisting children with learning difficulties through outreach programs, training, and workshop. The objective of this workshop is to strengthen teachers' profession on Remedial Teaching and to assist children to overcome their learning difficulties and be absorbed in the mainstream. It is to ensure that primary teachers understand the sub-skills in the areas of reading, comprehension, spelling, writing, math and multiple intelligences and also the difficulties faced by children with learning disabilities.
The participants were provided with a teaching handbook and identification checklist to enable the class teachers to identify the children who have such learning difficulties. The methodologies shared can be adopted in the regular classroom to teach the entire class as well.
The resource people for the workshop are from the Madras Dyslexia Association (MDA) which is a non-Profit Organization actively involved in creating awareness and has designed and developed a range of awareness and remedial training programs for educators who in turn can assist the children affected by learning disability.
For the Valedictory function, the Principal of TCV school Bylakuppe, Mr. Namgyal was invited. He stressed the importance of educating children with love and compassion. This was followed by the distribution of certificates to the participants by the Chief Guest. Token of appreciation were also presented to resource persons and the participants. A word of thanks was delivered by Ms. Tenzin Paldon of DOE. She expressed heartfelt gratitude to PRM for funding the workshop.
-Filed by the Department of Education