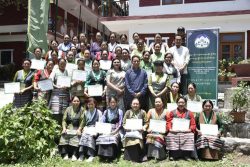 Dharamshala: Two day workshop for foster parents on "Effective implementation of the Protection of Children against Sexual Offences (POCSO Act, 2012) and Child Rights" was organized by the Department of Education, CTA at Peace House, Upper TCV School on 25th and 26th June.
The event was attended by Mr Karma Singey, Secretary of DOE and Ms Dolkar Wangmo, Chief Career Counsellor, DOE.
Officiating the seminar, the Chief Counsellor Dolkar Wangmo elucidated the objective and the purpose of the workshop.
The previous workshop on "parenting skills" was organized in the month of April and this is the second one in a year.
The workshop was facilitated by Rekha Chauhan, a senior counselling psychologist and a consultant, who is also a Life skill trainer for emotional well-being and vocational rehabilitation professional.
During the closing ceremony, Secretary Karma Singey mentioned that the decision to impart this workshop to the foster parents was because they are directly related and linked to the children during the school days. As he learned about the positive feedbacks and experiences from the participants he expressed joy and satisfaction as the aim and objectives of the workshop has been fulfilled.
"It is our responsibility to look after the children, nurture them with love and care and prevent abuses and sexual offenses." said the Secretary Karma Singey.
He further urged the foster parents to take responsibility as a real mother and to be pragmatic of whatever they have learned from the workshop. He further advised and requested them to speak up about such cases and not to remain quiet as it will lead to more such cases in the future. He also reminded about the importance of cleanliness, physical and mental health of the children. He also urged the home mothers to avoid bias and favoritism when dealing with the children.
A total 40 home mothers and a male warden attended the workshop.
The workshop is funded by USAID.