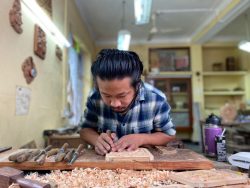 Dharamshala: Skill Training Scholarship program is a new initiative of the Youth Empowerment Support (YES) section of the Department of Home, CTA. The main objective of the program is to provide an opportunity to the Tibetan Youth (18-45 years) to pursue skill training program from any skill training institute of their choice and from anywhere in India. The program provides financial support to the selected applicants to pursue skill training.  The program is designed in such a way that it offers flexibilities and convenience to the Tibetan youth to pursue any course at the training center of their choice.
Since the program is designed to fulfil the need of the school dropout and address the issue of unemployment in the community, there is no educational bar to apply for this program. Hence, the program opens a big opportunity to the school dropout to pursue skill training and become self-reliant, and earn a decent livelihood.
The first-year pilot program has created an overwhelming interest among the youth especially those who are unemployed. Nearly 30 young people have submitted training application for this program in the first year of its rollout and out of which below mentioned 16 applicants from 9 different Tibetan settlements are currently pursuing the training at various training institute based in different cities of India. Others have withdrawn due to COVID-19 risk and travel restrictions.
Few of the courses are partially conducted through hybrid learning in the wake of the ongoing pandemic. Placement and internship program is also offered as a part of the program.
Many of them have chosen unconventional courses which will pave a way to add more skilled professionals into the Tibetan community in the coming years.
The YES, Department of Home, CTA, has formulated a separate guideline to create a mechanism and ensure the smooth implementation of the program.
The 2nd year program announcement along with the detailed information is being planned to be rolled out in the coming months.
The program is being funded by USAID through SARD and Tibet Fund.
-Filed by Youth Empowerment Section, Department of Home