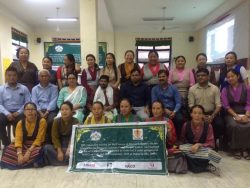 Tibetan Voluntary Health Association(TVHA) in collaboration with Central TB Division, Government of India organized two days training on HIV /AIDS, syphilis, PPTCT and TB HIV services for the TVHA staff nurses/ANM at Majnu-ka-Tilla, New Delhi from 19-20 September 2019.
There were total of 20 staff nurses and ANM from Health units participating in this training. The training was coordinated through National AIDS Control Organization (NACO), facilitated by Saksham Prerak project of Tata Institute of Social Science (TISS), and Delhi State AIDS Control Society (Delhi SACS).
Tuberculosis continues to be the one of the major public health problem among Tibetan community in India. One of the common comorbidities of tuberculosis is HIV/AIDS and people living with HIV have higher risk of acquiring TB infection. HIV test is provided free of cost at TVHA health facilities for early detection of the cases and early treatment to control the viral load which helps people living with HIV to lead a normal and healthy life. All the TB patients are screened for HIV at our health facilities. Therefore, the main objectives of the training are to build the capacity of our TVHA nurses on TB HIV services, strengthen their capability on pre and post HIV test counseling at our facilities, as well as for effective communication with people living with HIV/AIDS.
The resource persons and facilitators for the training include Mr. Abhishek Patel, Mr. Gaurav Shrivastav from Saksham Prerak project of TISS, Ms. Ritu Sharma, Ms. Hemma and a lab technician from Delhi SACS and Mr. Rajiv Sindhu, Mr. Mubarak Ansari, Mr. Sanjay Swain and Dr. Lalit from NACO. We also had a community representative from Om Prakash Network Program, Delhi to share his life experiences and throw light on the perception about people living with HIV/AIDS.
The training covered topics including Basics of HIV/AIDS including Syphilis, TB and other co-infections, PPTCT interventions, HIV/AIDS Prevention Act 2018, Pre and post test communication TB-HIV collaborative activities. The training will also entertain hands on training for the staff nurses on HIV and Syphilis screening tests (WBFPT), post exposure prophylaxis and Universal Safety Precautions.
This training is provided at the National level involving pioneer stakeholders on HIV/AIDS such as National AIDS Control Organization. With this training, we anticipate our staff nurses to be competent and confident to support the people living with HIV/AIDS and address the social stigma associated with the disease. The training will also guide our nurses on the HIV prevention act under Government of India to avail the provision services under GOI. In addition, beyond just providing awareness on HIV/AIDS, our nurses will be able to conduct pre and post test communications effectively and provide basic services on HIV/AIDS to achieve the goal of Zero new HIV infection, zero vertical transmission from mother to child, zero death related to HIV/AIDS, and zero discrimination and stigma against people living with HIV/AIDS.