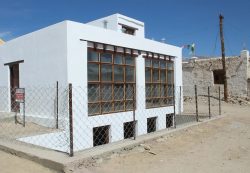 Dharamshala: Amidst the COVID 19 pandemic, the Department of Health despite having the huge responsibility of protecting and curbing the spread of COVID 19 among the Tibetan community continues to carry on with the ongoing essential projects adhering to COVID 19 risk mitigation measures in place.
One such project to highlight is the WASH program which along with LNP team has resumed effort to implement WASH activities at Ladakh and Jangthang regions as per the GOI Ministry of home circular on 5th May 2020 "continuation of works in construction projects, within the limits of municipal corporations and municipalities".
The Leh Nutrition Project (LNP), is a non-profit organization, specialized in drinking water and sanitation projects having expertise and experience in building an infrastructure for the cold deserted region of Ladakh. In view of that Health Department keep contracts with them to carry out WASH activities under the banner name of "Enhanced wellbeing of Tibetan communities and children through WASH intervention in Ladakh" in Leh and Jangthang region. The feasibility and location for the setting are being assessed and headed by Chief Representative Officer (CRO) with the consultation from Camp and Jangthang leaders. The final overall projects are being overseen and monitored by WASH Section, Department of Health, CTA.
To date, 90% of WASH infrastructural works such as Submersible hand pumps, Community Solar Composite Toilets, Solar Bathroom in Jangthang areas, and drinking water cum handwash stations in various schools & villages have been installed. Along with that, a WASH committee has been set up successfully in each camp and schools in Ladakh Settlement.
Mr. Tsetan Wangchuk, CRO of Ladakh Sonamling Settlement is grateful to the Department of Health, CTA for funding essential WASH projects.
He said "Ladakh Sonamling settlement being one of the aridest, remote and harsh-weather settlement, the residents has been facing water scarcity issues, poor sanitation for decades. But with the health department's initiatives over the years have resulted in successfully solving almost 80% of drinking water problems as well as 70% of sanitation problems in the areas. We also contemplate promoting health education amongst commoners and students and have been able to bring great behavioral change in the form of good sanitation practices, the importance of hand hygiene, and clean drinking water amid the pandemic".
-Filed by the Department of Health