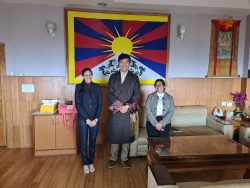 Dharamshala: The second-year collaboration of the Central Tibetan Administration (CTA) with the American Indian Foundation (AIF)  hosted two fellows, Ms. Shivangi Singh and Ms. Trishla Bafna from India working in areas of gender mainstreaming and sensitization and towards the promotion of entrepreneurship and vocational education in Tibetan Schools. CTA's SARD entered into a three-year partnership with the American Indian Foundation (AIF) through which AIF committed to placing two of their William J. Clinton Fellows each September for a service period of ten months.
Due to the challenging COVID situation, the year's program began with working remotely in November 2020 however the two AIF fellows were able to join their respective teams at the CTA in Dharamshala in early March 2021. The two fellows were welcomed by SARD and had a briefing session with the Sikyong Dr Lobsang Sangay at the Sikyong's Office today. Sikyong highlighted the importance of gender work within the community and the CTA along with persistent efforts needed towards the development of the entrepreneurship and vocational education projects.
Shivangi Singh has more than 7 years of experience working in the developmental sector on areas such as gender empowerment and entrepreneurship development program, is going to work with the Department of Education of the CTA to support the existing entrepreneurship and vocational education programs. She will also compile a comparative study report on the National Education Policy 2020 and the Tibetan Basic Education Policy.
Trishla Bafna has worked in the Partnerships Development Unit (PDU) at the United Nations Office for Project Services (UNOPS) in the past and has a Master's degree in Human Rights. She is focused on the inclusion of Gender Study in the School Curriculum and will be working with the Women Empowerment Desk of the CTA where she will conduct a research survey on Sexual and Gender-Based Violence (SGBV) in the Tibetan community along with providing support to the recently established Women Helpline initiative of WED and meanwhile providing recommendations on the implementation of the gender mainstreaming framework for projects implemented by the CTA.