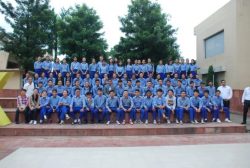 The Department of Education, CTA has initiated a new school-based program, College/Universities Exposure Visit for class XII students of Central School for Tibetan (CST), Tibetan Children's Village (TCV), Tibetan Homes Foundation (THF) and Sambhota Tibetan School (STS) schools. The purpose of this program is to provide the students a day or two immersion experience of being in one of the best colleges or Universities in India. The rationale behind is to motivate & encourage the students to pursue any course of their choice in the best colleges in India. Currently, students make a college decision by hearing from counselors, teachers & by surfing net which is one of the important ways but that alone is not sufficient to make an informed career decision. One's personal experience is equally important to make a realistic decision. Keeping this in mind, the Department of Education has gone another mile to create this opportunity for the students. Our hope is that through this program the students will be intrinsically motivated & inspired to achieve their aspirations. Moreover, it will have a positive effect on the students as learners because they further understand what college requirements mean and how much effort one has to put to get into top-notch college or University in India through this exposure activity.
This exposure program is divided into two phases. In the first phase, these schools are the target group viz CST Kalimpong, CST Darjeeling, TCV Suja, TCV Gopalpur. Upper TCV Dharamsala, SOS TCV Bylakuppe, TCV Selakui and THF Mussoorie.
CST Kalimpong (50 students) & CST Darjeeling (30 students) visited Visva Bharti University (Shantineketan) in Bhopal near Kolkata from 7-10 July 2019, In addition to that CST Darjeeling also visited North Bengal University, Siliguri on 20 July 2019.  TCV Suja (82 Students) visited Delhi University (Ashoka University, Miranda College, Hansraj College) on 15 July 2019. SOS TCV Bylakuppe (91 students) took the Commerce Students to St. Joseph College of Commerce (SJCC), Christ University and The Dalai Lama Institute of Higher Education from 9-10 July 2019 and 136 students of science students of class 12 to Mysore University, JSS Engineering College, Physiotherapy college next to JSS Hospital of Mysore. TCV Gopalpur (91 students) took their Students to Chitkara University, Panjab Campus from 31 July to 1 August 2019. Where Upper TCV (84 students) visited Lovely Professional University (LPU) on 30 July 2019. THF Mussoorie (123 students) visited IMS Unison University, DIT University, Ram Institute of Hotel Management on 6 August 2019 And TCV Selakui (70 students) are going to visit Tula's Institute, Chitkara University, Petroleum University from 22-23 August 2019, in the third week of this month. During the visit, students have met College admission officers, interacted with current students. Special speakers were arranged to give them career guidance talks, had food in the College dining hall, interacted with some faculties, were shown college library, residence hall (dormitory), gym, auditorium, cafeteria, etc. They also used some of the facilities of the colleges and universities.
In a nutshell, the students found it a life-transforming experience & 99% of the students have never been to a campus tour. In Total 757 students have participated in this program.
This project is funded by PRM and on behalf of the students, the Organizing team expresses the deepest gratitude to PRM for making the tour happen for the students and thankful to the Principals, Rectors & teacher escorts for their co-operation & support.
-Filed by Department of Education, CTA