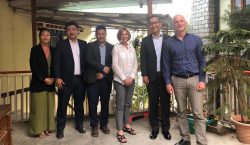 The five-year CAD5.4 million funding for education of Tibetan youth in India and Nepal announced by the Canadian government in November 2018 formally entered implementation stage with the visit by a delegation of Agriteam Canada staff to Dharamsala and South India from March 17-29.
Agriteam Canada is a well-known international development firm and CTA's partnering NGO in Canada. CTA has already successfully worked with Agriteam on an earlier Canadian government education funding of CAD2 million from 2015-2017. The new five-year grant is also being channeled through Agriteam and is for a program entitled Enhanced Education for Resilience of Tibetan Youth (EERTY).
The Agriteam delegation comprised of Paul Degiacomo, Ellyn Floyd and Sherab Tharchin began their India trip with a visit to the Mundgod Tibetan Settlement where they visited the Sambhota Tibetan School, met with parents and other stakeholders. In Dharamsala they had detailed working meetings with SARD, Department of Education (DoE), Women's Empowerment Desk, the Tibetan Entrepreneurship Development (TED) Program, and SARD's monitoring and evaluation team. The delegation's field visits included visits to the Upper TCV School, the Petoen Model School, Sarah College and local office of the Tibet Fund. The delegation also met with Sikyong Dr. Lobsang Sangay.
The primary purpose of the visit was to draft a Field Implementation Program (FIP) in collaboration with the Department of Education and SARD. The EERTY Program is looking to support some core educational areas including counseling, Parent Teacher Associations (PTAs), strengthening school leadership and scholarships.
SARD expects to begin receiving funds by June after submission of the FIP.