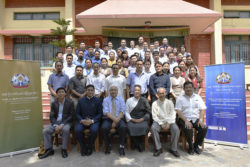 The Central Tibetan Administration's (CTA) Public Service Commission (PSC) has recently finished their nine-day 'Special Training for the Auditors of Office of Auditor General (OAG) of CTA. The training was held at the Tibetan Administrative Training Center from 26 June-4 July.
The program started with an opening session which included short speeches from Auditor General Pema Damdul, PSC Chairman Sonam Choephel Shosur, and Chief Guest Kalon Karma Yeshi, Department of Finance. They discussed the importance of auditors, rules of CTA, Performance auditing, and auditing regulations. Secretary Jigme Tsering; Acting Secretary Tashi Topgyal, Office of Auditor General; and Resource person Sathya Kumar were also present.
The training contains various talks about auditing from reputable speakers including Mr Kagyue Dhondup, Chief Justice Commissioner and former Auditor General of CTA, who spoke on quality and time control for audit work; Mr. Rinzin Choephel, Acting Secretary of OAG (Retired) of CTA, on the topic of tools and techniques of auditing; Mr. Tsering Dhondup Secretary (OHHDL) and former Finance Kalon, CTA who talked about the essentials of auditing report writing; Mr. Wangdu Tsering, Additional Secretary (Retired), CTA on budgetary audit and internal control system; Mr. Kalsang Phunstok, Additional Secretary (Retired), CTA on formulation of audit program and planning; Amardeep, Architect plus CTA consultant and Mr. Pema Damdul Arya, Auditor General of CTA OAG, on professionalism and code of ethical standards of auditing; and Penpa Tsering, TMAI's Construction Head, on construction auditing.
The last two days concluded with a discussion on CTA's financial rules and regulations and CTA's amendments which was moderated by the OAG Administration. The final session was held with PSC where they asked for feedback and evaluation from the participants about the program. This program was a success as 45 participants attended the training. The event was funded by USAID.